Packages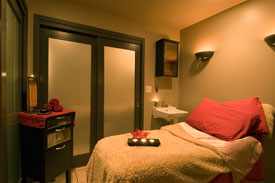 The complete package for that special occasion, or just your well-deserved reprieve from the daily pressures of life. You know you deserve it...stop for a moment to savor the sweetness, solitude and sensual side of life!
Add lunch and beverage
You can enjoy a fabulous spa lunch and beverage as part of your day of pampering.
$12.00
Beauty Bliss
Half day Retreat - 3 hours
45min. Customized Massage, Spa Pedicure, Spa Manicure

$205.00
Refresh and Renew
Body Polish & 45min. Customized Massage
$145.00
Sweet Escape
75min. Customized Massage & Signature Spa Pedicure
$190.00
The Essential
Essential Pedicure & Essential Manicure.
$85.00
Spa Services