Facials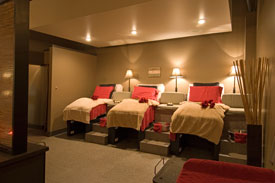 Both our signature and exclusive facials are customized for your skin type. Each treatment includes a deep cleanse, exfoliation, moisturizing face massage, balancing mask, hand & foot massage as well as soothing scalp massage.
Signature Facial
For all skin types. This personalized facial addresses the needs of all skin types. After just one treatment a significant improvement can be noted, the Signature Facial is one of the most results-driven treatments La Dolcevita has to offer.
$100.00
Exclusive Facial
This facial is designed to compliment your skin's structure perfectly. All products used in this facial contain intensive protection to shield the face against free radicals - the main cause of skin aging. This treatment is beneficial to treat fine lines, wrinkles, tone & firms the skin.
$120.00
Fresh Face
Our estheticians have designed a refreshing face treatment providing you with the essential basics - this treatment will leave your skin feeling fresh and rejuvenated.
$50.00
Spa Services